PROVEN RELOCATION EXPERTISE
Special Expertise in Shipping Grandfather Clocks
We're known in Southwest Florida to be the best crating company for grandfather clocks. We have been shipping grandfather clocks from our location for over 16 years. It is not unusual for us to have three or four clocks in our crating center during a week. All grandfather clocks are secured in wood crates with special foam packing to ensure their safe travel. If you are shipping the clock internationally, we will place it in vapor barrier bagging with desiccant to prevent moisture penetration that could occur during container shipping to an international port.
A History of Success Handling Grandfather Clocks
Grandfather clocks often have special memories attached to them, so their safe handling is especially important when planning an estate move. We help you make arrangements to have the pendulum and weights secured properly before we pick up the clock for crating. Then, when the clock has arrived at its destination, we provide white-glove delivery service.
Our Proven Process for Moving Grandfather Clocks
We start by helping you make the arrangements to have the pendulum, weights, and internal workings dealt with properly. After those items are removed by the clock master, Craters & Freighters calls to schedule your pickup.
Your clock is shrink-wrapped and placed in a custom-built wood crate. The pendulum is bubble-wrapped and taped to the top front of the clock. The interior of the crate is lined with Styrofoam™ and custom bracing to prevent movement and ensure the clock travels safely.
Grandfather clocks being shipped internationally are placed in a vapor barrier bag with a desiccant to prevent moisture from damaging them during shipping.
Fully Customized Solutions
Grandfather clocks are unique pieces that require specialized packing, crating, and moving expertise. Craters & Freighters Southwest Florida has the skill and experience to ensure grandfather clocks are properly protected.
We have moved many grandfather clocks through the years, but we have never moved yours. Our teams take nothing for granted when handling these beautiful works of art.
While we have tremendous expertise in this area, we leverage it as if each grandfather clock move is our first. Every packaging and crating engagement we take on involves a customized blocking, bracing, and cushioning solutions specific to that item to ensure it is perfectly prepared for the rigors of shipping.
Selecting the Right Company to Care For, Protect, and Move Your Clock
To find the right company for your move, start by doing an internet search for phrases like "grandfather clock shipping," "estate moves," or "estate shipping" in your local area. You can even find information by posing a question such as, "How can I ship a grandfather clock?" A good shipping company will have specific information posted on their website about how they handle specialty items, will have photos showing examples of their work, and will have been in business for a while.
Once you've found a company to call, there are some key questions to ask. Shipping companies that have handled clocks in the past will be able to answer them without hesitation.
Frequently Asked Questions
Can I move a grandfather clock myself?
If that special grandfather clock that's been in a loved one's house for as long as you can remember has to be moved, you may have a hard time envisioning anyone outside your family touching it. If so, you may want to take matters into your own hands. The do-it-yourself approach is always an option, but a company that cares about your precious family heirloom will advise against buying a cardboard box, bubble wrap, and tape from the local retail pack-and-ship store and then renting a moving truck. They'll point out that you may not have the expertise to protect the clock's inner workings or glass. However, if they then offer to ship the clock but say they'll simply blanket-wrap it, that isn't a good option either.
What do you need to know about this move?
Grandfather clocks are works of art and require the utmost care. Beware of companies that just give you a quote without asking a lot of questions, answering yours, or explaining their services. A reputable company will go out of their way to answer all your questions and go over services options from start to finish to ensure you're comfortable before they move the clock one inch.
Are you a single-source provider?
Does the company provide pickup and delivery using their trucks or a third party? Do they handle the job from start to finish? Are they the single point of contact?
Can I insure a grandfather clock?
Ask if the company provides insurance. Insurance is often based on the type of coverage you need such as full coverage based on item value or loss only. Make sure you're adequately covered and that the company explains what to do if damage occurs.
Do you work with a clock expert (aka a clock master)?
Many shipping companies place an entire clock in a box or wood crate without considering its inner workings and moving parts such as the pendulum. If these items aren't properly secured, there will be damage to your clock. Ask if they contract with a clock master to remove the clock's workings ahead of pickup so that the shipping company can pack them separately. Also, the company should assist you with finding a clock master on the receiving end to put the workings back together.
What information do I need to provide to help with the moving process?
Be prepared to answer questions on the pickup and delivery requirements for your clock. Is it being picked up at a residence or business? Are there stairs? Is there an elevator? When do you need it picked up and delivered? Make sure you provide as much information as possible, or you could be subject to significant additional costs.
Howard Miller, Sligh, and Ridgeway grandfather clocks in particular are one-of-a-kind works of art. An expert shipping company will offer white-glove pickup and delivery options for these items. Their truck drivers will handle the clock wearing white gloves to prevent fingerprints and scratches to delicate surfaces. White-glove services may also include wearing foot booties and protecting flooring and walls from damage.
How do you pack grandfather clocks?
Aside from the clock's inner workings, the entire clock structure should be custom cushioned and wrapped based on its needs. Ask how the company protects delicate ornamental features, glass, and wood.
On the day of pick up, the shipping company should take care in individually labeling and boxing all of the clock's inner workings that were removed by the clock master. This will ensure that you receive all its pieces upon delivery.
How do you crate grandfather clocks?
Ask if the company uses prefabricated boxes or if they custom-build based on the clock's characteristics. Grandfather clocks are too heavy to be placed in an oversized cardboard box and require a sturdy wood crate. Once the clock is properly wrapped and packaged, it should be placed in a wood crate made specifically for grandfather clocks. The crate itself should be lined with foam or other cushioning agents so that the clock is fully and evenly padded.
Do you offer international shipping? If so, what does that entail?
Ask about domestic and international shipping options. Some companies only provide local services, while others can ship to just about anywhere. If your clock is being shipped internationally, a reputable company will explain options and provide you with proper documentation and customs information. Some companies will only get your clock to the port and then it's up to you to figure out what to do next! Make sure you understand what you're responsible for or your clock could be left in limbo at the port!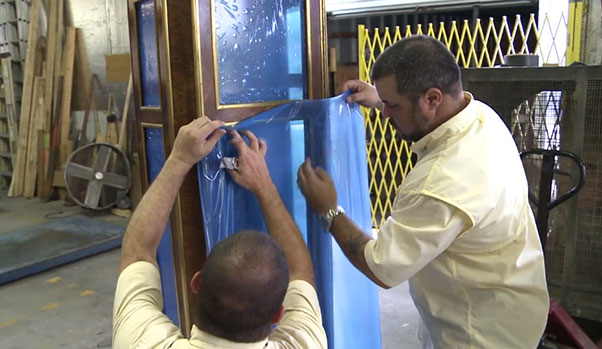 Take the Stress Out of Shipping Your Grandfather Clock!
Single-source packaging, crating, and shipping companies will make moving your grandfather clock a stress-free experience by caring for your clock from the moment they pick it up until the time it's delivered to its final destination. With the advice provided above, you should have all you need to ensure your clock arrives in perfect condition.
Get a fast, free, no-obligation cost estimate from Craters & Freighters Southwest Florida.
We are locally owned and operated, and will care for your items from the time of pickup to delivery. Provide some information on your needs and we'll get back to you right away with a figure you can use in your planning.