Comprehensive, Exporting, Freight Shipping and Packing Services in Southwest Florida
Full Range of Logistics Services
We can ship your valuable items from any point of origin to any destination. When you use our comprehensive U.S. domestic shipping and international shipping services, you can focus on other tasks confidently knowing that we are ensuring your shipment is fully managed and the process is running seamlessly.
We can offer you a smart, secure, and successful packaging and shipping experience in just these three easy steps: 
Step 1: Reach out to our Southwest Florida team and let's talk about your packing and shipping needs.
Step 2: Get a call from one of our freighting experts who will detail to you what we believe is your best shipping approach, along with a price quote.
Step 3: Once your quote has been agreed to, our shipping specialists will start your packaging and shipping process.
Shipping Service Options
What is the best way to get your items where they need to go? We work with you to find the ideal solution out of the many options we have available. That includes how your shipment is crated and transported, as well as the timing of pickup and delivery.
We treat every engagement like it is our only engagement. We have found that that is the best way to ensure your valuables make their journey safely, securely, and cost-effectively.
And if any issues arise, we address them promptly and fully to make sure your shipment stays on track from start to finish.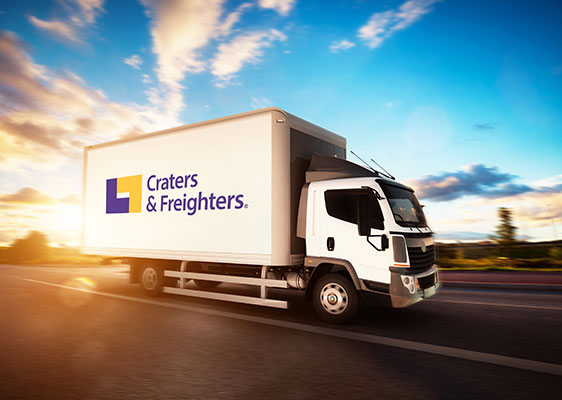 Why Ship With Us?
Our Cape Coral and Southwest Florida Craters & Freighters team offers comprehensive, expert shipping services.  Your freight shipping project receives the benefit of three decades of service and insight.  Our reputation for providing top-of-line attention to the details, proficient and successful crating, packaging, and shipping know-how, while going above and beyond to meet customer satisfaction is unparalleled.   
We are leaders in freight shipping because we welcome even the most challenging of jobs, no matter the size, no matter the value.  We will package and ship oversized and hazardous items, as well as valuable, collectible pieces of antiques or art, and we provide just as much care to everyday household belongings as we do an industrial commercial project.  
At Craters & Freighters we know how to handle moving your condo across town, your office across the state, or your construction site equipment to another country- we are your reliable Southwest Florida packing and freight shipping company, ensuring all the logistics are taken care of.  
We invite customers with any kind of packing and shipping project, our staff has the education and experience to provide an effective, safe, and cost-efficient partnership with you.  
Craters & Freighters is known around the world for our diligence in supporting any kind of commercial, residential, domestic, or international freight shipping service and for our exceptional crating and packaging services.  Call us today to find out how we can make your shipping project a success.
We Ship Most Things
Large, heavy, oddly shaped, or fragile items do not intimidate us. There is not much we have not shipped. In fact, we look forward to the kinds of challenges that other providers walk away from. If you're wondering if our Southwest Florida freight company is right for you, the answer in all certainty is yes. Call us at 866-256-0578 to learn more about our full array of shipping services.
We know that no two jobs are ever exactly the same and your unique crating, packing, or shipping project needs unique, specific attention. Our team is skilled in providing every customer with the individual care and respect they deserve.  
Our Southwest Florida Craters & Freighters is always prepared to best serve you with courtesy and professionalism, going beyond industry standards in every way.  
Our custom-made wooden crates will get your belongings to their final destination safely, harm-free through precision in design and building with the necessary wrapping and supports.  We will take all the guesswork out of your shipping project, offering our logistic services along with our expertise in packaging and freighting.  
Let us prove that we are the only choice for your Southwest Florida shipping service needs.  Whatever the item, wherever it's going, we are here to help get it there quickly and safely- domestic shipping, international shipping, air freight or ocean freight shipping, cargo shipping, white-glove delivery, residential pick-up, custom crating, or any other packing or shipping service you require.   
If you'd like even more reasons to let us take care of your packing and shipping project, read more about us, look at some of our reviews by our discerning clientele, and learn more about our sustainability efforts and projects.
When looking for a crating and freighting service in the Southwest Florida area, you have choices, we're confident that if you work with us, you will receive unrivaled excellence throughout your crating, packing, and shipping project.  Call us today and let's get started. 
Get a fast, free, no-obligation cost estimate from Craters & Freighters Southwest Florida.
We are locally owned and operated, and will care for your items from the time of pickup to delivery. Provide some information on your needs and we'll get back to you right away with a figure you can use in your planning.